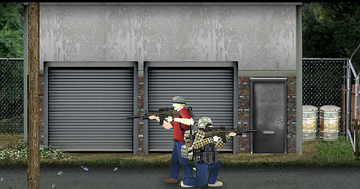 12 Main Street is a garage located in Whistler's Forest, a section of Union City in The Last Stand: Union City, only available upon purchase of the Survival Kit. It is the second building located on Main Street, which is the sixth area in Whistler's Forest. 
There is a black muscle car parked inside which looks identical to the one the player crashes in the beginning of the game.
Ad blocker interference detected!
Wikia is a free-to-use site that makes money from advertising. We have a modified experience for viewers using ad blockers

Wikia is not accessible if you've made further modifications. Remove the custom ad blocker rule(s) and the page will load as expected.