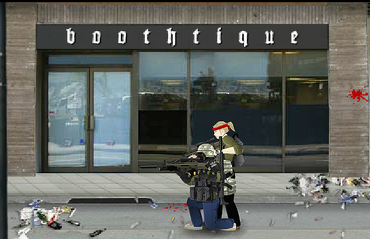 Boothtique is a clothing store located in Uptown, a section of Union City featured in The Last Stand: Union City.
There are two notes to be found inside.
One reads "Scan Me", being below a QR barcode (it links to here, may take a while for the store to load).
The other references that the store actually exists (online), and is appearing in the game as a favor for the owner doing some free artwork.
The two girls and the tiger on the back wall are all art for sale from Aaron Booth.
Zombies rarely spawn inside the store, but they do enter if a horde attack is ongoing.
There is an "888 Food Store" adjacent to the clothing store, though it is inaccessible.
Ad blocker interference detected!
Wikia is a free-to-use site that makes money from advertising. We have a modified experience for viewers using ad blockers

Wikia is not accessible if you've made further modifications. Remove the custom ad blocker rule(s) and the page will load as expected.