"Buck is here and he's brought some new goodies from trusted outdoors manufacturers Manning and Skogr. Just in time for Rabbit Season, you can craft these on your bench for a limited time!"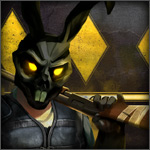 Buck is an NPC in The Last Stand: Dead Zone that was introduced during Easter 2017.
Buck was reported to have introduced the new "Rabbit Season" weapons from Manning and Skogr, two outdoors equipment manufacturers. Buck was also available as a target that could be fought against in the Terror Dome competition.
In April 2014, an accessory titled "Warren" was introduced, along with a promotional image. Both depict an "evil Easter bunny" that may have been a precursor to Buck.
Ad blocker interference detected!
Wikia is a free-to-use site that makes money from advertising. We have a modified experience for viewers using ad blockers

Wikia is not accessible if you've made further modifications. Remove the custom ad blocker rule(s) and the page will load as expected.