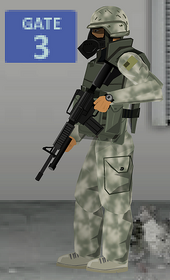 Cpl. Martinez is an NPC in The Last Stand: Union City. He is an Army corporal.
Background
Edit
He can be found in the second room of the Stadium along with Pvt. Simmons and Kate Hammond, standing guard next to the gate which leads to the field. He is armed with a M4A1 assault rifle. He instructs players to give their name to the registration officer if they haven't already, and explains that they are gathering names to reunite those affected by the outbreak, giving the impression that HERC was organized and effectively dealing with the situation. Not much else is known about him.
Ad blocker interference detected!
Wikia is a free-to-use site that makes money from advertising. We have a modified experience for viewers using ad blockers

Wikia is not accessible if you've made further modifications. Remove the custom ad blocker rule(s) and the page will load as expected.