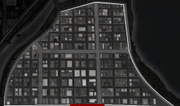 Downtown is a section of Union City featured in the Alpha versions of The Last Stand: Union City. It is not an accessible location, although it is possible to click on the area on the map.
In the released version, Downtown's location, as well as Southshore's, is taken up by Uptown.
Ad blocker interference detected!
Wikia is a free-to-use site that makes money from advertising. We have a modified experience for viewers using ad blockers

Wikia is not accessible if you've made further modifications. Remove the custom ad blocker rule(s) and the page will load as expected.