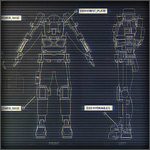 EXO Rigs are a special type of passive gear featured in The Last Stand: Dead Zone. They were introduced as part of the 2016 Halloween event.
Description
Edit
"Years of development went into the construction of EXO Rigs to aid HERC agents with all forms of combat and survivability. The components were dropped into the Dead Zone in EXO Parts Caches. We can find them, we can make use of the tools they planned to use against us."[1]
EXO Rigs are special exoskeleton rigs geared towards certain skills. The EXOs increase certain stats but can only be crafted using specifically-designed components. All EXOs can be upgraded to 10 levels higher than their base and cannot be traded.
Aside from that, there are certain undersuits and helmets that, along with rigs, provide benefits to both melee and ranged combat.
List of items
Edit
EXO-CLOTHING
Edit
References
Edit
Ad blocker interference detected!
Wikia is a free-to-use site that makes money from advertising. We have a modified experience for viewers using ad blockers

Wikia is not accessible if you've made further modifications. Remove the custom ad blocker rule(s) and the page will load as expected.