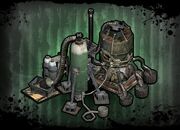 The F.U.E.L. Generator is a production structure featured in The Last Stand: Dead Zone.
Description
Edit
Fabricated Universal Element Liquid Generator converts resources to Fuel. Needs restocking after collection.
The F.U.E.L. Generator produces Fuel over a period of 46 hours, which is stored in the Generator until it reaches full capacity. Once it reaches full capacity, production is stopped and will not resume until the Fuel is collected. Once collected, it will be added to the compound's stock of Fuel. Upgrades to this structure improve its temporary storage capacity and production speed.
Even if the Generator was not at full capacity when the Fuel was collected, it must be restocked with Wood, Metal and Cloth before it can produce more. It will also need to be restocked if the Fuel was stolen during a raid. Upgrading the generator does not restock it; moreover, the raised cost applies, so it's best to restock the generator before upgrading it. Books that affect repair costs also affect the restock costs.
Specifications
Edit
Indoor and outdoor placement.
Occupies area of 5x5 squares bordered by walking area.
Provides Low Cover.
Collecting from this structure while fuel is being generated has a chance of providing extra resources Unlike the other production structures, it does not need to be at full capacity to give bonus fuel when collected.[n 1]
Upgrade levels
Edit
Upgrade Level
Requirements
Effect
Level 1
Resources:
175
175
175

Can be built immediately for ? 
Buildings:
Level 3 Engineering Bench
Produces 1 unit of every 9 hours and 12 minutes, up to 5 units
Restocking requires 400 , and , and takes 5 Minutes

+500 XP to all survivors when completed.

Components:
5 Small Gears
10 Pipes
1 Insulation
Time:
45 Minutes
Survivors:
Level 10 Leader
Level 2
Resources:
260
260
260

Can be built immediately for ? 
Buildings:
Level 3 Battery Array
Produces 1 unit of every 4 hours and 36 minutes, up to 10 units
Restocking requires 500 , and , and takes 5 Minutes

+550 XP to all survivors when completed.

Components:
1 Small Motor
3 Small Chains
5 Foil
Time:
1 Hour
30 Minutes
Survivors:
Level 15 Leader
Level 3
Resources:
390
390
390

Can be built immediately for ? 
Buildings:
Level 5 Engineering Bench
Produces 1 unit of every 3 hours and 4 minutes, up to 15 units
Restocking requires 600 , and , and takes 5 Minutes

+600 XP to all survivors when completed.

Components:
20 Rivets
3 Pipes
5 Tapes
Time:
3 Hours
Survivors:
Level 18 Leader
Level 4
Resources:
585
585
585

Can be built immediately for ? 
Buildings:
Level 5 Windmill
Produces 1 unit of every 2 hours and 18 minutes, up to 20 units
Restocking requires 700 , and , and takes 10 Minutes

+800 XP to all survivors when completed.

Components:
20 Wires
10 Small Gears
25 Metal Cables
Time:
8 Hours
Survivors:
Level 21 Leader
Level 5
Resources:
880
880
880

Can be built immediately for ? 
Buildings:
Level 6 Engineering Bench
Produces 1 unit of every 1 hour and 50 minutes, up to 25 units
Restocking requires 800 , and , and takes 15 Minutes

+1000 XP to all survivors when completed.

Components:
5 Weaves
3 Ropes
5 Canisters
Time:
16 Hours
Survivors:
Level 24 Leader
Level 6
Resources:
1,320
1,320
1,320

Can be built immediately for ? 
Buildings:
Level 5 Battery Array
Produces 1 unit of every 1 hour and 32 minutes, up to 30 units
Restocking requires 900 , and , and takes 20 Minutes

+2000 XP to all survivors when completed.

Components:
5 Car Batteries
3 Small Motors
5 Pipes
Time:
1 Day
Survivors:
Level 27 Leader
Level 7
Resources:
1,985
1,985
1,985

Can be built immediately for ? 
Buildings:
None
Produces 1 unit of every 1 hour and 18 minutes, up to 35 units
Restocking requires 950 , and , and takes 20 Minutes

+5000 XP to all survivors when completed.

Components:
10 Small Gears
20 Pipes
10 Canisters
Time:
1 Day
Survivors:
Level 30 Leader