"FORT TRAN
I assume this is where the chopper was supposed to be headed.
It's been completely overrun, managed still to pull together some sandbags to put together a sturdy wall though."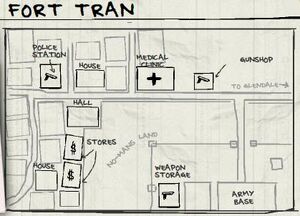 Fort Tran is an optional location in The Last Stand 2, very near to Union City. It is a military base that was completely overrun by the time Jack arrives. According to his diary entry, it is where the chopper from the ending of The Last Stand was headed before it crashed.
The most powerful weapons in the game can be found here, courtesy of the military, and has a large amount of zombies to use said weapons on. Here Shambling and Running zombies appear in large groups, but not many of the other types show up. There's only one stop left after this, and that's Union City.
Ad blocker interference detected!
Wikia is a free-to-use site that makes money from advertising. We have a modified experience for viewers using ad blockers

Wikia is not accessible if you've made further modifications. Remove the custom ad blocker rule(s) and the page will load as expected.