Ad blocker interference detected!
Wikia is a free-to-use site that makes money from advertising. We have a modified experience for viewers using ad blockers

Wikia is not accessible if you've made further modifications. Remove the custom ad blocker rule(s) and the page will load as expected.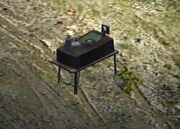 The Gear Bench is a general building featured in The Last Stand: Dead Zone.
Description
Edit
Allows you to craft and upgrade gear items.
The Gear Bench enables crafting and upgrading of gear items. Upgrades to this structure unlock additional schematics and allows higher level items to be crafted and upgraded.
Specifications
Edit
Indoors and outdoors placement.
Occupies area of 1x2 squares bordered by walking area.
Provides Low Cover.
Upgrade levels
Edit
Upgrade Level
Requirements
Effect
Level 1
Resources:
50
50
50

Can be built immediately for ? 
Buildings:
Level 2 Workbench
Enables crafting of:

Enables upgrading of:

Unlocks schematics of:

+15 XP to all survivors when completed.

Components:
None
Time:
2 Minutes
Survivors:
None
Level 2
Resources:
60
60
60

Can be built immediately for ? 
Buildings:
Level 1 Engineering Bench
Enables crafting of:

Most Level 4 - 6 and some higher level gear schematics

Enables upgrading of:

Unlocks schematics of:

+25 XP to all survivors when completed.

Components:
None
Time:
5 Minutes
Survivors:
None
Level 3
Resources:
70
70
70

Can be built immediately for ? 
Buildings:
Level 1 Engineering Bench
Enables crafting of:

Most Level 7 - 9 and some higher level gear schematics

Enables upgrading of:

Unlocks schematics of:

+50 XP to all survivors when completed.

Components:
None
Time:
20 Minutes
Survivors:
None
Level 4
Resources:
85
85
85

Can be built immediately for ? 
Buildings:
Level 2 Engineering Bench
Enables crafting of:

Most Level 9 - 10 and some higher level gear schematics

Enables upgrading of:

Unlocks schematics of:

+100 XP to all survivors when completed.

Components:
None
Time:
1 Hour
Survivors:
None
Level 5
Resources:
105
105
105

Can be built immediately for ? 
Buildings:
Level 2 Engineering Bench
Enables crafting of:

Most Level 11 - 12 and some higher level gear schematics

Enables upgrading of:

Gear items up to Level 12

Unlocks schematics of:

+150 XP to all survivors when completed.

Components:
None
Time:
1 Hour
30 Minutes
Survivors:
None
Level 6
Resources:
125
125
125

Can be built immediately for ? 
Buildings:
Level 3 Engineering Bench
Enables crafting of:

Most Level 13 - 14 and some higher level gear schematics

Enables upgrading of:

Gear items up to Level 15

Unlocks schematics of:

+200 XP to all survivors when completed.

Components:
None
Time:
2 Hours
Survivors:
None
Level 7
Resources:
150
150
150

Can be built immediately for ? 
Buildings:
Level 3 Engineering Bench
Enables crafting of:

Most Level 15 - 16 and some higher level gear schematics

Enables upgrading of:

Gear items up to Level 18

Unlocks schematics of:

+500 XP to all survivors when completed.

Components:
None
Time:
2 Hours
30 Minutes
Survivors:
None
Level 8
Resources:
185
185
185

Can be built immediately for ? 
Buildings:
Level 4 Engineering Bench
Enables crafting of:

Most Level 17 - 18 and some higher level gear schematics

Enables upgrading of:

Gear items up to Level 21

Unlocks schematics of:

+1000 XP to all survivors when completed.

Components:
None
Time:
4 Hours
Survivors:
None
Level 9
Resources:
225
225
225

Can be built immediately for ? 
Buildings:
Level 5 Engineering Bench
Enables crafting of:

Most Level 19 - 21 and some higher level gear schematics

Enables upgrading of:

Gear items up to Level 24

Unlocks schematics of:

+2500 XP to all survivors when completed.

Components:
None
Time:
6 Hours
Survivors:
None
Level 10
Resources:
275
275
275

Can be built immediately for ? 
Buildings:
Level 6 Engineering Bench
Enables crafting of:

Most Level 22 - 29 and some higher level gear schematics

Enables upgrading of:

Gear items up to Level 28

+2500 XP to all survivors when completed.

Components:
50 Heavy Fabric
25 Small Machined Parts
Time:
8 Hours
Survivors:
None
Level 11
Resources:
330
330
330

Can be built immediately for ? 
Buildings:
Level 6 Engineering Bench
Enables crafting of:

Most Level 30 - 34 and some higher level gear schematics

Enables upgrading of:

Gear items up to Level 35

+3500 XP to all survivors when completed.

Components:
100 Heavy Fabric
50 Small Machined Parts
Time:
1 Day
Survivors:
Level 27 Engineer
Level 12
Resources:
405
405
405

Can be built immediately for 953 
Buildings:
Level 6 Engineering Bench
Enables crafting of:

Most Level 35 - 39 and some higher level gear schematics

Enables upgrading of:

Gear items up to Level 40

+4000 XP to all survivors when completed.

Components:
125 Heavy Fabric
75 Small Machined Parts
Time:
1 Day
Survivors:
Level 35 Engineer
Level 13
Resources:
490
490
490

Can be built immediately for ? 
Buildings:
Level 6 Engineering Bench
Enables crafting of:

Most Level 40 - 45 and some higher level gear schematics

Enables upgrading of:

Gear items up to Level 45

Unlocks schematics of:

Level 44 Plated Military Armor

+4500 XP to all survivors when completed.

Components:
150 Heavy Fabric
100 Small Machined Parts
Time:
1 Day
Survivors:
Level 40 Engineer
Level 14
Resources:
595
595
595

Can be built immediately for ? 
Buildings:
Level 6 Engineering Bench
Enables crafting of:

Most Level 46 - 50 and some higher level gear schematics

Enables upgrading of:

Gear items up to Level 50

+5000 XP to all survivors when completed.

Components:
300 Heavy Fabric
200 Small Machined Parts
Time:
1 Day
Survivors:
Level 45 Engineer
Level 15
Resources:
725
725
725

Can be built immediately for 2,124 
Buildings:
Level 6 Engineering Bench
Enables crafting of:

Enables upgrading of:

Gear items up to Level 55

Unlocks schematics of:

+5000 XP to all survivors when completed.

Components:
400 Heavy Fabric
300 Small Machined Parts
300 Treated Wood
Time:
3 Days
Survivors:
Level 50 Leader
Level 50 Engineer