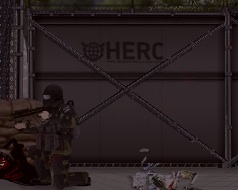 HERC is an acronym for Homeland Environmental Risk Control, a fictional government organization featured in The Last Stand: Union City and The Last Stand: Dead Zone.
The Last Stand: Union City
Edit
They were called in to quarantine Union City after the zombie outbreak, as well as to investigate said outbreak. HERC works alongside the military to enforce the quarantine and ensure the safety of evacuations. They have established an evacuation center/command post at the Stadium and also possess outposts in Uptown and Union Island.
In their investigation of the outbreak, they perform many controversial actions, including the conduction of (possibly involuntary) experiments on survivors at their Uptown outpost. Among those taken to be experimented on is the player's spouse.
Strangely, infected HERC personnel are never encountered.
HERC personnel are typically equipped with:
The Last Stand: Dead Zone
Edit
HERC declared Union City a Dead Zone and pulled out along with the military several months before the events of the game, leaving many of their agents behind in the process. Their actions before the beginning of TLS:UC are also covered in the TLS:DZ Story Timeline that plays on the loading screens, revealing them to have fired upon and massacred civilians while attempting to contain the outbreak.
They also left behind some of their equipment, which can be scavenged by survivors. It's some of the best equipment available, but it is also incredibly rare. Sealed HERC Supply Boxes have also been left behind and can be unsealed using special keycards. In addition, special Tactical Response Supply Boxes, containing custom weapons unique to HERC (HERC-PDW, HERC-A1 Rifle, HERC-S3, HERC-24A1, HERC-2 SMG) can be found as well, and unsealed using the same method. Both variants contain equipment and supplies that can be extremely useful for anyone who can find and open them.
HERC has recently begun ordering survivors still in the Dead Zone to execute certain directives, with rewards for those who comply.
Infected HERC personnel are also seen for the first time:
Zombified HERC scientists can be seen in Level 6+ hordes and are identical in terms of stats to regular zombies. They are distinguished by their bright orange Hazmat suits and can be Shambling or Running zombies.
Zombified HERC troopers begin appearing in Level 18+ hordes. They are a subtype of Armored zombies and are the second-most durable zombie type, outclassed only by Riot zombies. They are distinguished by their forest-green body armor and face-covering masks.