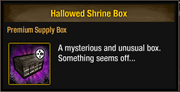 The
Hallowed Shrine Box
is a
supply box
featured in
The Last Stand: Dead Zone
. It is available after completing the
Construct the Hallowed Shrine
Dead Zone task.
Description
Edit
A mysterious and unusual box. Something seems off...
Background
Edit
You have successfully completed the construction of your haunted shrine. Congratulations! Let this box be our gift to you for your courageous and diligent efforts in building a memorable shrine, lest you forget about your fallen companions. In fact, you will never be able to forget them, because soon you will be joining your comrades in the great beyond! Bon voyage!
Granted as a reward for building the Hallowed Shrine, opening this box will grant you a generous reward... and a terrible curse!
List of available items
Edit
Ad blocker interference detected!
Wikia is a free-to-use site that makes money from advertising. We have a modified experience for viewers using ad blockers

Wikia is not accessible if you've made further modifications. Remove the custom ad blocker rule(s) and the page will load as expected.