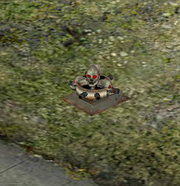 The Mag of Mayhem is a type of trap featured in The Last Stand: Dead Zone. It was only available during the Halloween event in 2015. The building was reintroduced in the 2017 Undead Blitz update.
Description
Edit
Mag Wheel + small cannons = 360° of destruction.
Constructing this building will contribute towards the Mags of Mayhem Dead Zone task.
Specifications
Edit
Indoor and outdoor placement.
Can be disarmed.
Occupies an area of 2x2 squares bordered by walking area.
Single-use, but can be rearmed using 15 Ammunition and 1 Guzzlers Gas (2015).
Upgrade levels
Edit
Upgrade Level
Requirements
Effect
Level 1
Resources:
50

Cannot be built immediately with
Buildings:
None
Deals 40 points of damage per shot to enemies that are hit.

+300 XP to all survivors when completed.

Components:
25 Military Metal
30 Gun Powder
Time:
5 Seconds
Survivors:
Level 15 Leader