Not to be confused with the Military Base in TLS:DZ.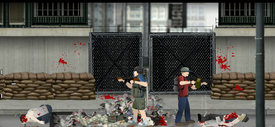 The Waterside Military Base is a military base located in Waterside, a section of Union City, in The Last Stand: Union City.
The base plays a crucial role in storyline, where the player must scavenge the required items for the "Explosive Components" quest.
It is recommended to go there with high searching stats to maximize your chance of getting a rare weapon, since there are several military crates scattered inside the base.
Ad blocker interference detected!
Wikia is a free-to-use site that makes money from advertising. We have a modified experience for viewers using ad blockers

Wikia is not accessible if you've made further modifications. Remove the custom ad blocker rule(s) and the page will load as expected.