This article is about the district in The Last Stand: Union City and The Last Stand: Dead Zone. For the PvE event held at the Stadium itself, see Terror Dome.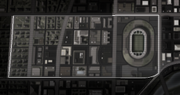 The
Stadium
is a section of
Union City
in
The Last Stand: Union City
and
The Last Stand: Dead Zone
.
The Last Stand: Union City
Edit
It is the smallest area in the game and has a danger level of 10. It is also where the first human enemies, in the form of HERC doctors, make an appearance. Zombies only appear around the front entrance to the Stadium.
Ballpark Drive
Edit
There are 4 soldiers guarding the entrance to the Stadium. One of them can be talked to, and is named Sergeant Williams (the other three can be shoved, and sometimes they will die).
Maintenance
Edit
First room is a footlocker with a large stockpile of ammo.
Second room contains a hostile HERC scientist and a Note, which must be eliminated and read to move on, respectively.
The Last Stand: Dead Zone
Edit
It unlocks when the Leader reaches Level 9, and has the most Security and Street locations of any area in the game. The Stadium building itself is home to the Terror Dome competition, and is unlocked when the Leader reaches Level 15.
↑

If the player positions their cursor carefully at the door behind Private Simmons and press "E", it will display a notification stating that a key is required to open the door. Since there is no actual key to the door, it remains unpassable.

↑ Due to a bug, the player will have to speak to Barry twice in order to continue.
↑

To reach the HERC Command Post, you must first go through the first service tunnel, into the second, access the first door you find, and go up the ceiling hatch. The outpost is on the right.
Ad blocker interference detected!
Wikia is a free-to-use site that makes money from advertising. We have a modified experience for viewers using ad blockers

Wikia is not accessible if you've made further modifications. Remove the custom ad blocker rule(s) and the page will load as expected.