The Declaration
Real Life Name

N/A

Damage Lvl

Medium

Fire Mode

Automatic

Ammo Cost

169 (Lvl 20)
104 (Lvl 45)

Range

15 (Lvl 20)
18 (Lvl 45)

Aim Time

0.1s

Attacks Per Second

10.58

Damage

(Lvl 20)
28 - 30
83.1 DPS
(Lvl 45)
50 - 52
223.5 DPS

Knockback

10%

Accuracy

60% (Lvl 20)
75% (Lvl 45)

Noise

10

Reload Speed

2.2s

Magazine Size

20 (Lvl 20)
30 (Lvl 45)

Other Effects

Cannot be Traded
The Declaration is an Independence Day-exclusive assault rifle featured in The Last Stand: Dead Zone, introduced in 2017.
Background
Edit
How to obtain
Edit
Recycling products
Edit
Recommended gear
Edit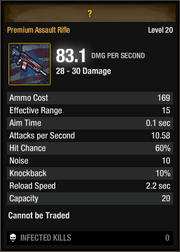 The Level 20 version can be upgraded to Level 25, while the Level 45 version can be upgraded to Level 50.
After the 2017 Independence Day event ended, a glitch erroneously renamed the weapon to "?".
Ad blocker interference detected!
Wikia is a free-to-use site that makes money from advertising. We have a modified experience for viewers using ad blockers

Wikia is not accessible if you've made further modifications. Remove the custom ad blocker rule(s) and the page will load as expected.