Welcome to The Last Stand Wiki!
We welcome any and all users, experienced or not, to the wiki. Anyone is
free to edit
as long as they understand English. However, please refrain from
vandalizing
the wiki.
If you are new to wikis in general, you may want to read through the
Help Pages
first. Please stop by the
Community Portal
to see where you can get involved with the project!
Contents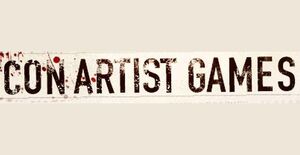 Featured Article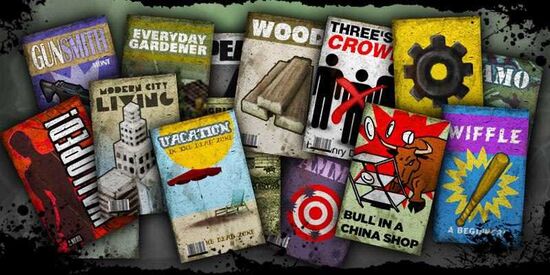 Books are a type of item featured in The Last Stand: Union City and The Last Stand: Dead Zone, and serve primarily as a supportive role in both games, albeit an important one.
In The Last Stand: Union City, books are one-time skill boosters, with each skill in the game having their own associated skill-increasing book. The effectiveness of books is directly connected to the player's Smarts skill. Eleven different types of books exist in the final release of the game, although the player can read multiple copies of the same book, and receive the same boost in skills from each one.
In The Last Stand: Dead Zone, books play a similar role to mods in that they affect gameplay, either for the player's benefit or detriment. Books can be found while scavenging, opening supply boxes, purchased directly from The Store, or as bonus rewards for purchasing fuel. Unlike its predecessor, books are equipped; up to four may be equipped at a time, and only one from each of the five book categories: Combat, General, Mission, Resource, and Survival. Some books may be equipped indefinitely, while others have an expiry time. Some books may also lock out the slot they occupy for a period of time, preventing the player from removing them until their lockout timer expires. Read more >>
Recently featured: Military Base · State · Compound (Raid on Union Island)
---
Vote for the next featured article · Past featured articles
News & Announcements
Last week's post was done early because I had something to do on the 21st. Better late than never, but never late is better.

Anyways, without further ado, here's what's happened this week...




Super Alliance War Round — increased prize pool and double the amount of players receiving awards! This war round only!

Read more >

As I will not be around on the 21st to do the news, I'm doing it early. So, without further ado...




Monthly Task Weapon Breakers closes soon! Recycle 25 weapons before the timer runs out to claim your Reward Box! Timer is:




There is a proposal on changing the weapons pages of the wiki! Please see the relevant forum thread for more details!
New articles: One new article was created over the past week! (No…

Read more >

Things have definitely slowed down around here (I have a feeling I've said this before) but we are not dead. Well, I am not dead. Still around, still alive, still hale and hearty. So, without further ado, as I hate having to waste precious time...




Gunner Gregor's Golden Guns. These golden weapons are special and variants of their boring counterparts, albeit with the same stats. They'll only drop fr…

Read more >
Poll
What item should be added as Active Gear?
---
Nominate a new question for the poll here!

Past poll results

----
Did you know...
...that certain weapons were considered "overpowered" when The Last Stand: Dead Zone was first released, so the developers changed the level drops of those weapons and tagged weapons with the older stats with the vintage tag?
...that there are two theories on the origin of zombies? (1. a cursed person dies and comes back as a zombie, and 2. a person contracts a virus or is exposed to radiation, which causes strange mutations in their cells that transforms them into a zombie.)
Random Quote
Pretty sure I topped the local roving reporter.
Wonder if I'll make the news tonight.
—Jack's Diary Entry for Day 6 (TLS1)
Get another quote
Today's Events
It is currently Tuesday, May 31, 2016, at 21:36 (UTC) (Update)
There are no events planned for today
Live! Chat
0
The Last Stand Wiki
Join the Chat>