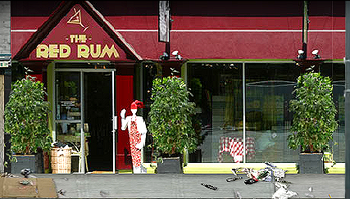 The Red Rum is a restaurant located in Newtown, a section of Union City featured in The Last Stand: Union City.
Contains a handbag with some Cash.
The name may be a reference to the Stephen King book "The Shining", or the 1980 film of the same name.
"Red Rum" backwards is "Murder."
The name may also refer to one of Urban Dead's notorious PK groups.
There is a HERC notice beside the restaurant entrance, though it is unreadable.
Ad blocker interference detected!
Wikia is a free-to-use site that makes money from advertising. We have a modified experience for viewers using ad blockers

Wikia is not accessible if you've made further modifications. Remove the custom ad blocker rule(s) and the page will load as expected.