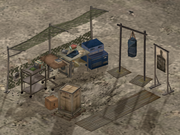 The Training Center is a type of general building featured in The Last Stand: Dead Zone.
Description
Edit
Allows the training of survivors into different roles. Upgrades shorten the training time.
The Training Center allows the player to retrain their survivors into a different class after a period of time, determined by the levels of the retraining survivor and the Training Center. Retraining causes the survivor to drop two levels and lose any XP they had accumulated.
It is possible to retrain survivors more than once.
Specifications
Edit
Outdoor placement only
Occupies area of 5x5 squares bordered by walking area
Provides Moderate Cover.
Upgrade levels
Edit
Upgrade Level
Requirements
Effect
Level 1
Resources:
500
500
500

Can be built immediately for 861 
Buildings:
Level 1 Construction Yard
Retrains at a rate of 30 minutes per current survivor level

+2000 XP to all survivors when completed.

Components:
3 Ropes
20 Nails
5 Pipes
Time:
8 Hours
Survivors:
None
Level 2
Resources:
750
750
750

Can be built immediately for 1297 
Buildings:
Level 2 Construction Yard
Retrains at a rate of 24 minutes per current survivor level

+4000 XP to all survivors when completed.

Components:
None
Time:
12 Hours
Survivors:
None
Level 3
Resources:
1125
1125
1125

Can be built immediately for 2033 
Buildings:
Level 3 Construction Yard
Retrains at a rate of 20 minutes per current survivor level

+8000 XP to all survivors when completed.

Components:
5 Ropes
30 Nails
10 Pipes
Time:
1 Day
Survivors:
Level 20 Leader
Level 4
Resources:
1,685
1,685
1,685

Can be built immediately for 3564 
Buildings:
Level 4 Construction Yard
Retrains at a rate of 18 minutes per current survivor level - 1

+10000 XP to all survivors when completed.

Components:
10 Ropes
100 Nails
20 Pipes
Time:
3 Days
Survivors:
Level 30 Leader
Level 5
Resources:
2,530
2,530
2,530

Can be built immediately for 4831 
Buildings:
Level 5 Construction Yard
Retrains at a rate of ? minutes per current survivor level

+10000 XP to all survivors when completed.

Components:
10 Ropes
100 Nails
20 Pipes
Time:
3 Days
Survivors:
Level 40 Leader