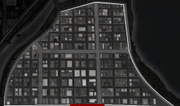 Uptown is a section in Union City in The Last Stand: Union City and The Last Stand: Dead Zone.
The Last Stand: Union City
Edit
It has a danger level of 11 and is the first area in the game where Zombie Dogs and Weapon Zombies appear.
Main Street
Edit
Staff Room - the key to Room 403, a Tauron 9mm, a Kitchen Knife, a Nightwatchmen skillbook, and some 9mm ammo.
Second floor hallway - a Cleaver.
Room 203 - a No Zzz.
Room 204 - a Martial Masters skillbook.
Room 302 - nothing of note.
Room 304 - Pain Pills.
Room 404 - nothing of note.
Room 403 - an Extended Magazine G17 Pistol, $350, some 9mm ammo, and a Medkit.
Room 402 - a Heavy Claw Hammer.
Room 401 - nothing of note.
Rooftop - a Safehouse. Contains some food, an ammo stockpile, a Hunter Compact, a G17 Pistol, Bandages, and a Medkit.
Lincoln Avenue
Edit
10th Avenue
Edit
Park Boulevard
Edit
A King-o-Pawn store, with a vending machine next to the entrance containing some Cash, plus food and drinks.
The Last Stand: Dead Zone
Edit
It is unlocked when the Leader reaches Level 47.
Ad blocker interference detected!
Wikia is a free-to-use site that makes money from advertising. We have a modified experience for viewers using ad blockers

Wikia is not accessible if you've made further modifications. Remove the custom ad blocker rule(s) and the page will load as expected.