"WHISTLERS GROVE
Basements. Not a fan but it's a necessity at the moment.
Built a crude barricade upstairs to hold them off tonight, should do the trick. Don't have much time or energy to build anything substantial.
Best bet is to find what I can and keep moving towards Union City."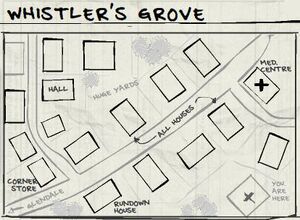 Whistler's Grove is a location in The Last Stand 2. Pre-outbreak, it had a population of 10,913.
It has lots of houses, 3 stores, a town hall, and a medical center. Although it has less supplies available and less valuable weaponry compared to Claysburg, it also has less zombies to deal with.
Weapon Zombies appear here, so be careful.
This section contains audio and/or video files.
If you are having difficulty playing these files, see media help.
| Track | Real-world preview! |
| --- | --- |
| Ambience loop | |
Ad blocker interference detected!
Wikia is a free-to-use site that makes money from advertising. We have a modified experience for viewers using ad blockers

Wikia is not accessible if you've made further modifications. Remove the custom ad blocker rule(s) and the page will load as expected.