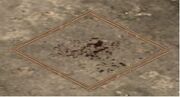 The Wire Trap is a type of trap featured in The Last Stand: Dead Zone.
Description
Edit
A wire trap that slows attackers movement over a patch of ground.
Any enemies that walk over it will trigger it, after which, any enemies passing through it will be slowed and take some damage over time for as long as they are within its area. Unlike other traps, it will not be consumed or require resources to re-arm should it be triggered, and can be disarmed even if already triggered.
Specifications
Edit
Indoor and outdoor placement.
Occupies area of 4x4 squares.
Can be disarmed.
Multiple-use, does not require rearming or rebuilding after being triggered.
Upgrade Levels
Edit
Upgrade Level
Materials Needed
Buildings Required
Time Taken
Effect
XP Gained
Level 1
50
20 Wire
Level 1 Engineering Bench
25 Minutes
Causes 25 points of damage per second to all enemies within its area.
200
Level 2
100
30 Wire
Level 2 Engineering Bench
1 Hour
Causes 50 points of damage per second to all enemies within its area.
300
Level 3
200
50 Wire
Level 3 Engineering Bench
4 Hours
Causes 75 points of damage per second to all enemies within its area.
300