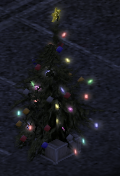 The Z-Mas Tree is a miscellaneous building featured in The Last Stand: Dead Zone. It was required for the Merry Z-Mas for Z-Mas 2012, is a constructable building requiring fuel in Z-Mas 2013 and 2016, and a constructable building requiring components in 2014, 2015, and 2017.
Description
Edit
This thing is going to take forever to put together and decorate.
2013/2014/2015/2016/2017
Edit
Get in the Z-Mas spirit with this apocalyptic rendition of the traditional tree. It even lights up!
Completing this building will contribute towards the Merry Z-Mas Dead Zone Task, as well as give Infected Santa a place to put presents.
2013/2014/2015/2016
Edit
It serves no real purpose and is purely cosmetic.
Specifications
Edit
Indoor and outdoor placement.
Occupies area of 2x2 squares bordered by walking area.
Cannot be upgraded.
Upgrade levels
Edit
Upgrade Level
Requirements
Effect
Level 1
Resources:
150
Buildings:
None
+? XP to all survivors when completed.
Components:
None
Time:
Instant
Survivors:
None
This section requires expansion. You can help The Last Stand Wiki by adding to it.
Upgrade Level
Requirements
Effect
Level 1
Resources:
250
Buildings:
None
+? XP to all survivors when completed.
Components:
None
Time:
Instant
Survivors:
None